Thanks very much to Eddie, Gerard, Ryan, Patrick and Mark for joining me today (12 Sept 2015) in playing in LGC's second "AwesomeBowl" BloodBowl tournament, just over a year after the last one (which was won by Colmo, who unfortunately couldn't join us today as he was working).
4 of the 6 players today had played in the previous AwesomeBowl (and in one or more of our previous LGCBBL league seasons). So that meant we had 2 new players as well - great to see 2 players who hadn't played BloodBowl in LGC before (and great lads too - thanks Patrick and Ryan - hope to see you playing BloodBowl at LGC again in the future).
Results -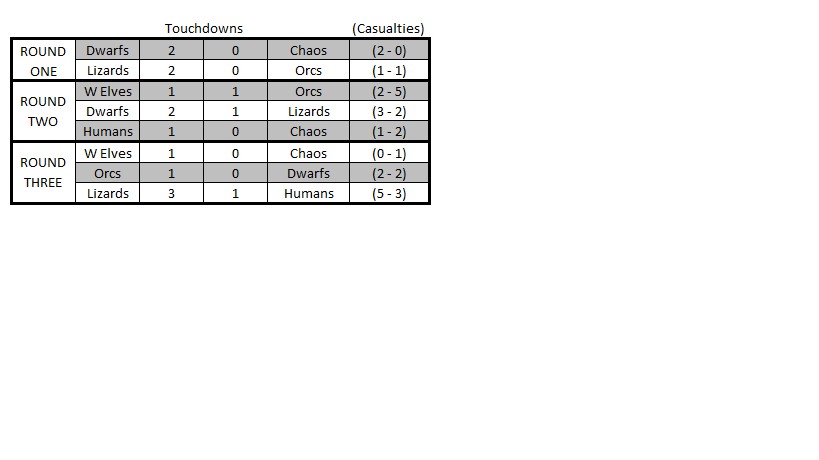 Table -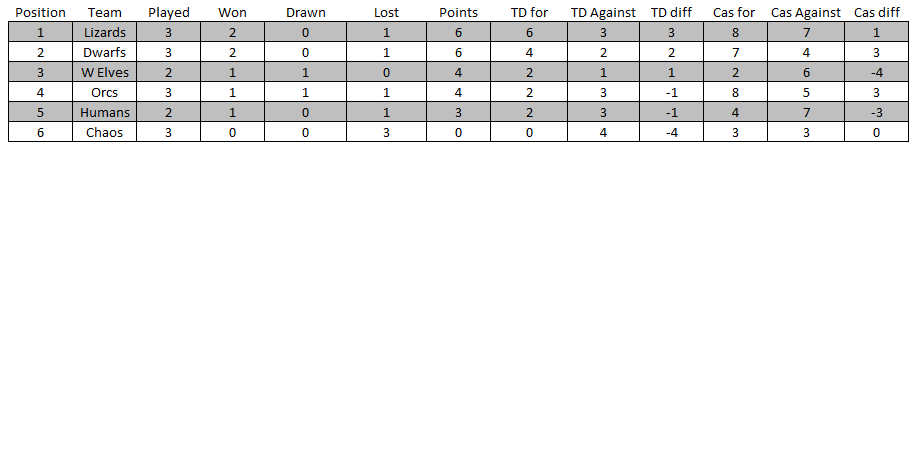 Both Gerard and Ryan had 2 wins and 1 loss, so 6 points. At Awesomebowl and LGCBBL we use TD difference as the next decider when points are level (and Casualty difference after that if need be). Gerard's TD difference was higher than Ryan's - by one touchdown! So in a very close run race, Gerard pipped Ryan to the title and took home the coveted gold LGC winner's dice - well done Gerard!
(Note we had an odd number for round 1, hence Mark and I playing 2 games, not 3).
Gerard - Lizards
Ryan - Dwarfs
Bryan - Wood Elves
Eddie - Orcs
Mark - Humans
Patrick - Chaos
I had a great day - thanks everyone. We talked about LGCBBL season 3 and there was some interest, so I'll do a post about that in a while.
(Let me know if I've made any mistakes above!)